With rapidly increasing competition and rising fuel prices, many fleets are rushing to implement new strategies to identify and close emerging gaps in their supply chain. The innovations in the trucking industry have eliminated outdated software. New technology is now being developed and drives modern end-to-end workflow systems. Developing innovations increase productivity and eliminate human error, causing a true revolution in the trucking industry.
By implementing new strategies, transportation organizations get more analytical information. This information can later be used for making important decisions on machine and company resource management. These strategies assist companies in organizing freight transportation. They help to create the most efficient schemes based on various specifications. These include the number of stops, lead time, and logistics costs. All this, in turn, leads to more productive goods transportation.
Fleet Management Information System: The Basics
A modern truck fleet maintenance software is a specialized system containing many tools. These tools are aimed at managing a company's personal and third-party vehicles. They solve emerging problems regarding transportation planning. They also help with workload control, the cost of maintaining big vehicles, and settlements with contractors. Specialized systems optimize routes, reduce processing and distribution times, and more. They even speed up the processing of documents.
Custom fleet maintenance systems are relevant for the organization of integrated accounting and operations in logistics. These systems can also be useful for optimizing business processes in companies of many other profiles.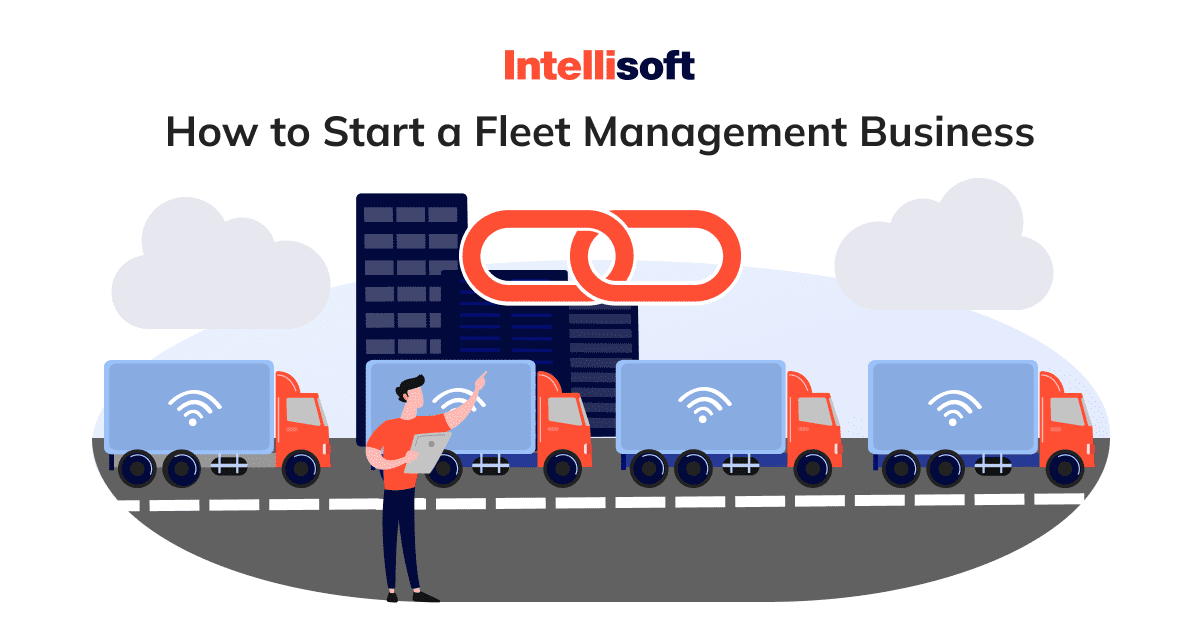 What Businesses Need FMS?
Why would you need fleet data management? Operational decisions on transportation depend not only on the nature of the maintained fleet but also on your organization's needs for coordinating fleet-related activities. These include vehicle purchasing and maintenance driver and fuel monitoring. Among others, there is also technical car control.
But do you really need to hire fleet management developers to create a solution from scratch? A well-developed, cloud-based system might help you optimize fleet utilization. It can help you optimize supply chain support and get more profit. You can even automate your company's management process.
You need to invest in a cloud-based solution for your operational needs if you need to:
Track the exact location of your company's vehicles at any given time. It allows you to adjust to traffic conditions and regularly receive updates and notifications for any problems affecting your drivers or vehicles. Depending on your needs, vehicle tracking can be both active and passive. Passive tracking means the saved history of your machines' relocation.
Manage your drivers' routes. It allows you to plan your fleet's routes using GPS. These functions are essential for taxi companies and other organizations that require communication between the driver and dispatcher. Using tracking allows dispatchers to monitor the exact location of each of the company's vehicles, allowing them to plan regular routes more efficiently.
Manage your fuel costs. Fuel costs are the most expensive running costs for every transportation company. Hence, monitoring gas consumption might save you money and improve overall productivity. Fleet managers can monitor fuel loss, consumption, and more by managing your fuel costs.
Manage your drivers' behavior. This factor has an enormous impact on the organization's productivity in terms of cost on fuel, maintenance, and road safety. Implementing a driving policy can reduce gas costs and reduce the number of accidents as well as any associated risks. The solution collects data on speed, selected routes, driving times, and pauses.
According to the statistics by the US National Highway Traffic Safety Association, thanks to the implementation of artificial intelligence, the number of accidents was reduced by 22.2%.
As for transportation companies, according to Teletrac Navman, the use of FMS has reduced the number of accidents by 42%.
Custom vs. SaaS FMS
The main fleet management system features of a custom and SaaS system are almost the same. But why are some logistics companies choosing custom fleet management system development and others SaaS solutions?
Let's dive deeper into this issue:
Custom
Why do logistics companies decide to spend time developing software? Why don't they buy ready-made systems to save their resources and start the process of optimization much faster? Today, there is a tremendous amount of software for large logistics companies. And most of it is very high quality. The problem with this off-the-shelf software is that you might not need some of the functions already incorporated. You are wasting money on functions you will not use by buying the full pack.
By hiring a professional IT team, you can ensure that the built system will include only those specific functions you need. You can discuss every single detail with the project manager as well as the software developer at the early stages of the software development.
SaaS
A so-called SaaS solution is a cloud-based software accessible via a web interface or, in simple words, via an Internet browser. Instead of installing programs directly on the device (mobile phone, laptop, computer), now the service itself is hosted in the cloud storage.
Google Docs is the simplest example of a SaaS solution. No media, no drivers, no installation. You simply create a personal account and start to work with documents, spreadsheets and presentations immediately. What's more, your colleagues can get access to your documents and even edit them simultaneously.
But that's the advantage of a SaaS system for the transportation business? That's simple. You do not need to waste your time developing software. Instead, you buy software that suits all your operational needs and get started immediately.
But there's one drawback. You cannot tailor a ready-made system to your specific needs.
How Can Modern Fleet Information Management Make Delivering Cost Efficient?
Tracking your company's fleet is not an end in itself. The most important goal is to use the collected data to optimize management processes.
Modern solutions are able to identify issue points along the selected route and suggest convenient and more efficient detour routes. Switching to another route helps save your machines' life and translates into savings on repairs and fuel.
Using a logistics system, you can also stop the misuse of transport if you notice that your driver is solving personal business while driving corporate vehicles. The main advantage here is that the system gives you and your company's dispatchers accurate information about what happens to the machines in the interval between loading and delivering goods.
The safety of the driver and the load is undoubtedly equally important. To ensure guaranteed safety, you need real-time diagnostics. If the sensors indicate the likelihood of an imminent breakdown of one of the company's trucks, the program warns the in-house engineers about it. Upon the arrival of the broken machine, the dispatcher won't let it go on the next trip. The engineers will instead be able to make timely repairs.
["source=intellisoft"]