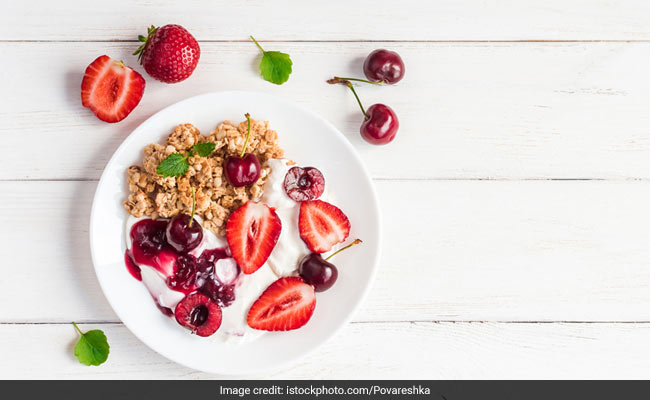 Christmas season is round the corner! During the festive season, we often tend to binge on sweets and other unhealthy stuff. Compromising on your health could lead to several health problems which you might have to suffer later on. Hence, this should be avoided. We all know eating two or three heavy meals is not good for your overall health. Instead, one should always go for four to five small or light meals. Usually between the meals we  crave for some snacks. Even while snacking, we often tend to binge on pizza, burger, chips, cupcakes or other sweet stuff. But these have no nutritional value and might lead to weight gain. These snacks should be healthy and nutritious. Go for high-protein and fiber rich snacks, since it will keep you full for longer and curb your hunger pangs.
1. Greek yoghurt:
The common dairy product yogurt which delicious and nutritious at the same time. This yoghurt  is an excellent source of mineral calcium, which helps keep the bones and teeth strong.  Go for plain yogurt and enhance the flavour with your choice of fruits like berries, or add chopped nuts, pepper or a dazzle of honey. You can even add this yoghurt to your smoothie.
2. Nuts and seeds:
A handful of nuts can be a great high-protein snack. Nuts are rich in healthy fast and fiber. some nuts like walnuts are even beneficial for the brain Include them in your diet. Nut butters can also be considered as a great option for snacking. You can either eat them directly or spread on your toast.
Also read: Include These High-Protein Snacks In Your Diet For Weight Loss
3. Protein bars:
Try making some protein bars at your home. Use some healthy ingredients like nuts, nut butter, coconut, jaggery sugar and seeds like flax seeds, chia seeds or pumpkin seeds. This will help you keep full for longer and control your appetite. Also, these protein-bars could give a boost to your energy.
4. Whole egg:
Yet another reason to eat eggs. Eggs are great source of protein and other vital nutrients vital for the body. Moreover, they are a versatile food and one can never get bored of them.
5. Smoothie:
You can make nourishing smoothie for yourself. It is easy to make and tastes delicious. Add some fresh fruits like apples, oranges and berries and full-fat milk or yoghurt. Milk is rich in calcium and fruits offer several health benefit. This will keep you energetic and will control your hunger pangs.
Also read: Do You Eat Early Dinners? Beat Hunger Pangs With These Healthy Snacks You Can Munch On Before Bedtime
Wishing everyone a Merry Christmas!
Disclaimer: This content including advice provides generic information only. It is in no way a substitute for qualified medical opinion. Always consult a specialist or your own doctor for more information. NDTV does not claim responsibility for this information.
["source=ndtv"]